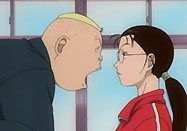 Like the drama, the Gokusen anime is also an NTV production. It began airing on January 6th, 2004. It has been licensed for release in the US by Media Blasters. They are calling it "The GokuSen" (sort of as a parody of "The Godfather") DVD release info down below is for the Region 1 release, then the Region 2 release. We are lucky in the US. Gokusen is being released on 3 DVDs as opposed to the 5 DVDs in the Japanese release. And each one is a lot cheaper than the Japanese counterpart! I am also amused by the volume titles Media Blasters is using (The Unteachables, Kumiko's Way, etc) very cute references!
OPENING THEME : "Hontou no Kotoba" (Real Word) by FOOT STAMP
ENDING THEME: "Onoremichi" (My Road) by HACHIYO Aki (I may have this name wrong...)
The anime voice cast is:
HAYAMIZU Risa as YAMAGUCHI Kumiko
(Yuuri in Kaleido Star, bit parts in Get Backers, Pita Ten, Scrapped Princess, Kiddy Grade, ROD TV, etc)
SUZUMURA Kenichi as SAWADA Shin
(Kamui in X-TV, Shiki in Tsukihime, Shin in Macross Zero, Isumi in HnG)
MATSUMOTO RICA as FUJIYAMA-sensei
(Kei in Dirty Pari Flash, Jim Hawking in Outlaw Star, Rumi in Perfect Blue, etc)
KONISHI Katsuyuki as SHINOHARA-sensei
(Spinel Sun (big) in Card Captor Sakura, Touya in Ayashi no Ceres, Shunsuke in Get Backers, Nicol in Heat Guy J, etc)
WAKAMOTO Norio as OSHIMA Kyotarou
(Chiyo-chan's father in Azumanga Daioh, Vicious in Cowboy Bebop, Shiva in Shurato, Kagato in Tenchi Muyo, etc)
MASUKAWA Yoichi as UCHIYAMA Haruhiko
(Rock Lee in Naruto, Suupuushan in Houshin Engi, etc)
HIRAI Keiji as Tetsu
YOSHIDA Hiroaki as Minoru
(small parts in Lain, Peacemaker Kurogane, Dear Boys, Gals, Detective Conan, etc)
DVD - Region 1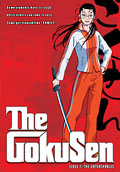 Gokusen Anime DVD vol 1: The Unteachables
Region 1
Contains Episodes 1-5
125 minutes
Release: 10/21/04

Regular Edition List Price: $29.99
Collector's Edition (DVD+Box+Nylon Jacket!): $39.99
The Collector's Edition comes with Yankumi's red sports jacket!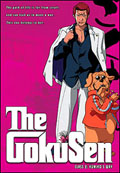 Gokusen Anime DVD vol 2: Kumiko's Way
Region 1
Contains Episodes 6-9
100 minutes
Release: 12/14/04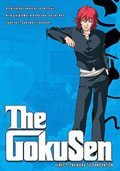 Gokusen Anime DVD vol 3: The Road to Graduation
Region 1
Contains Episodes 10-13
100 minutes
Release: 02/08/05

---
DVD - Region 2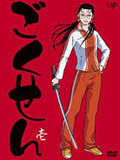 Gokusen Anime DVD vol 1
Region 2
Release Date: April 7, 2004
Contains Episodes 1-3
Catalog#: VPBY-12021
DVD: ¥5,040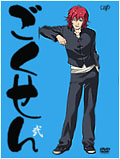 Gokusen Anime DVD vol 2
Region 2
Release Date: April 21, 2004
Contains Episodes 4-6
Catalog#: VPBY-12022
DVD: ¥5,040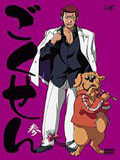 Gokusen Anime DVD vol 3
Region 2
Release Date: May 26, 2004
Contains Episodes 7-9
Catalog#: VPBY-12023
DVD: ¥5,040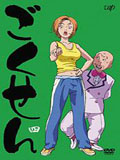 Gokusen Anime DVD vol 4
Region 2
Release Date: June 23, 2004
Contains Episodes 10-11
Catalog#: VPBY-12024
DVD: ¥3,990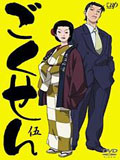 Gokusen Anime DVD vol 5
Region 2
Release Date: July 22, 2004
Contains Episodes 12-13 (END)
Catalog#: VPBY-12025
DVD: ¥3,990

---
MUSIC

Gokusen Original Soundtrack
Release Date: Feb. 25, 2004
Catalog #: VPCG-84803
¥2,730
This will contain the TV series BGM, as well as the TV-size versions of the opening and ending songs.

FOOT STAMP 1st album "Fuuketsu"
("cave from which cold wind blows")
11 tracks, Includes the Gokusen anime OP song "Hontou no Kotoba"
Release Date: October 1, 2003
VPCC-81468
¥2,520